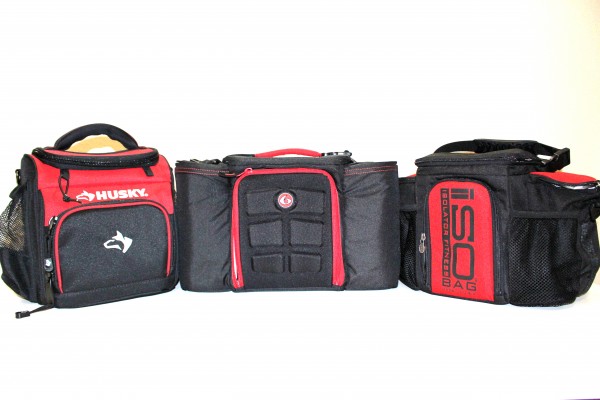 GOOD… BETTER… BEST…
Who has the best meal management bag?
Recently, the idea of meal management has become very popular because it has been a proven way to maximize your weight loss, eat healthy, and save money. Anything that keeps you from eating the low-quality food that is offered at most fast-food restaurants is a win in my book. The problem is that now you have to carry several containers of food around with you in order to eat food every few hours. Several companies have created solutions to this problem, and we will tell you which ones are worth checking out.
We will be reviewing three bags that we believe fit into the categories of good, better, and best.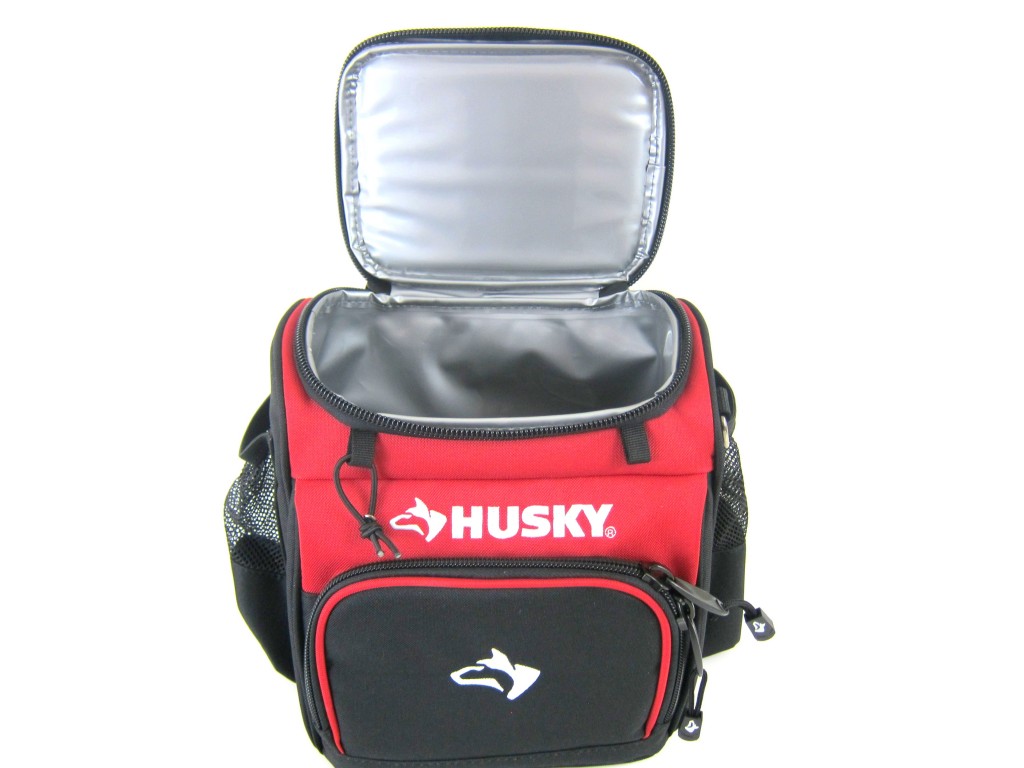 GOOD
Husky cooler lunch bag, Model #82021n11. A budget superstar!
This cooler is sold exclusively at the HomeDepot for just under $19. We love this bag because it is very well made and will hold just about as much as the meal management bags that cost four times as much. The external material is made of 600-denier SpunTuff that feels extremely durable and is listed as being water resistant to boot. The colors are bold, and while there may be no way you can mistake this is a Husky brand cooler with its bold white logo, it's a far cry from the over-branding done by companies like Six Pack Fitness. A big plus for this bag is that it offers a three-year limited warranty; if you have a defect in this bag then you can go to a HomeDepot and get a new one. It's a great buy for under $19, but remember that with this bag you will need to purchase the cooler packs separately because the Husky 82021n11 cooler does come with any.
This bag has five compartments. The main compartment is very large and is lined with a thick material that makes it leak-proof. It's large enough to fit five good-size meal containers inside, so three containers and two ice packs would be perfect (three being the average of all these bags). You have one water bottle mesh pocket on both sides (two total), and these pockets are deep enough to swallow a standard water bottle, so larger containers are no issue. They are, however, just mesh material and are not insulated in any way. A second but much smaller insulated pocket is on the front and is the perfect size for an additional meal container or for meal replacement bars. Lastly, the zipper pocket on the back is a little on the small side but could be considered useful to keep eating utensils or other miscellaneous items.
Overall, it's hard to go wrong with this cooler, especially if you are on a budget. The bag is very well made and costs so little in comparison to other bags. It is a Husky brand and will not win any show points at the gym, but it works and works very well for keeping lots of food cold. Did we mention it's only $19?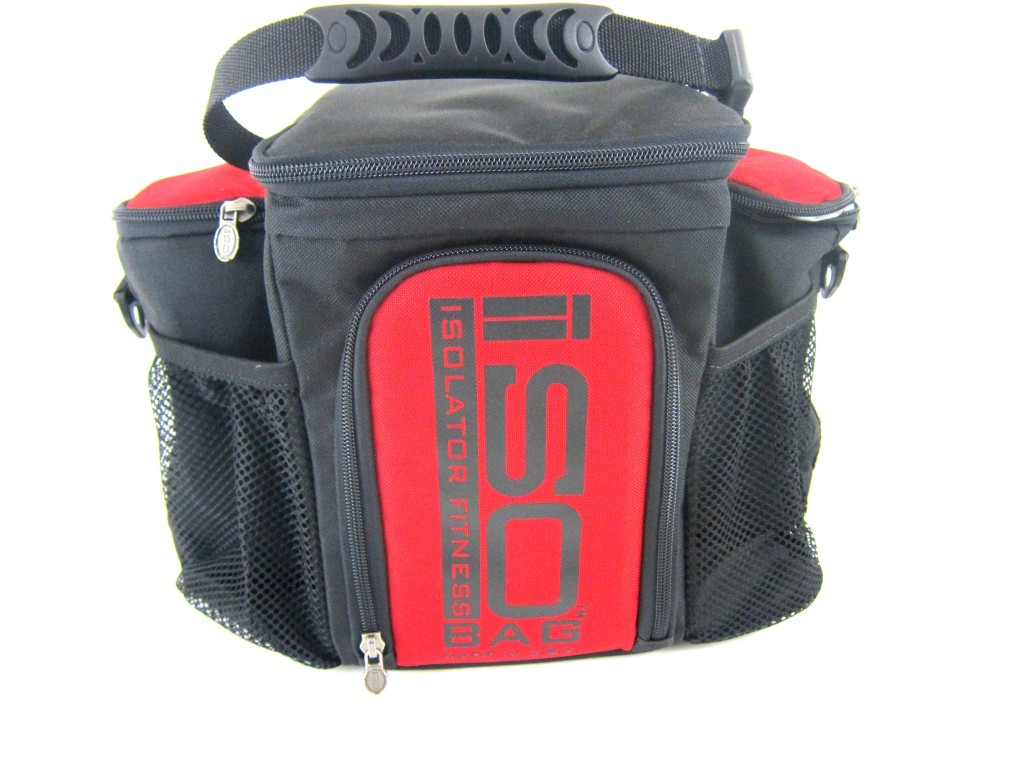 BETTER
ISOBAG from Isolator Fitness. A good middle-of-the-road option for around $70.
We had to include this bag in our top three picks because of the ideal size, reasonable quality, and the fact it's designed specifically for meal management. The bag is made very well and has almost the same internal lining as the Husky cooler, a smooth and thick silver material that is strong but surprisingly flexible. We did, however, try several times to contact Isolator Fitness to see what the external material was on their meal bag but couldn't get anyone to return our call or emails, so we will just have to say that it is fairly tough material but noticeably not as durable as the Six Pack Fitness bag or even the Husky bag. The zippers are well made and the zipper and the bag do win points on tasteful branding and overall design of the bag. Also a clear win for Isolator Fitness is the food containers that are included with the ISOBAG 3, because they are very well made and designed perfectly for stacking food for mass cooking. We ordered 50 extra containers and will order more in the future.
This bag has six compartments. It has a main independent zipper compartment that will easily hold three meal containers and the Isolator's unique cooling packs that are nicely shaped to fit on the sides. The compartment doesn't have any kind of tray system installed to separate meal containers so you will just have to stack them one on top of the other, but doing this doesn't appear to have any negative effect on the cooling of the contents. The included ice packs both fit nicely on the side panels of those containers very well, but I will mention that we spoke with people that have owned these bags and were told the ice packs do not hold up well over time.
You will have a sealed water bottle-style container on each side (two total) that are fully insulated and are sealed by a zipper. This looks fantastic, but if you have a water bottle/protein shake bottle that is larger than the pouch it will not work in this bag because it has a zipper close as its only option. These side compartments are one to two inches smaller than the Six Pack Fitness equivalent pouches. Isolator Fitness has included a mesh lining on both sides that would be good for regular-sized water bottles but offers no insulation. The top has the final compartment that is lined with the same silver insulating material and is similar in size to the Six Pack Fitness supplement compartment, minus the extra supplement container.
Overall, this bag wins on a few points and it loses on a few other points, but it is a great bag and the price is reasonable. The meal containers alone (able to be purchased in bulk) would win Isolator Fitness a spot at the winners' table. Even though the company itself doesn't appear to operate with the same passion and professionalism as Six Pack Fitness, they still do a great job. The size of this bag is what makes it a winner. With the ISOBAG 3 you have the smaller, more compact bag and you still get the dedicated meal management design.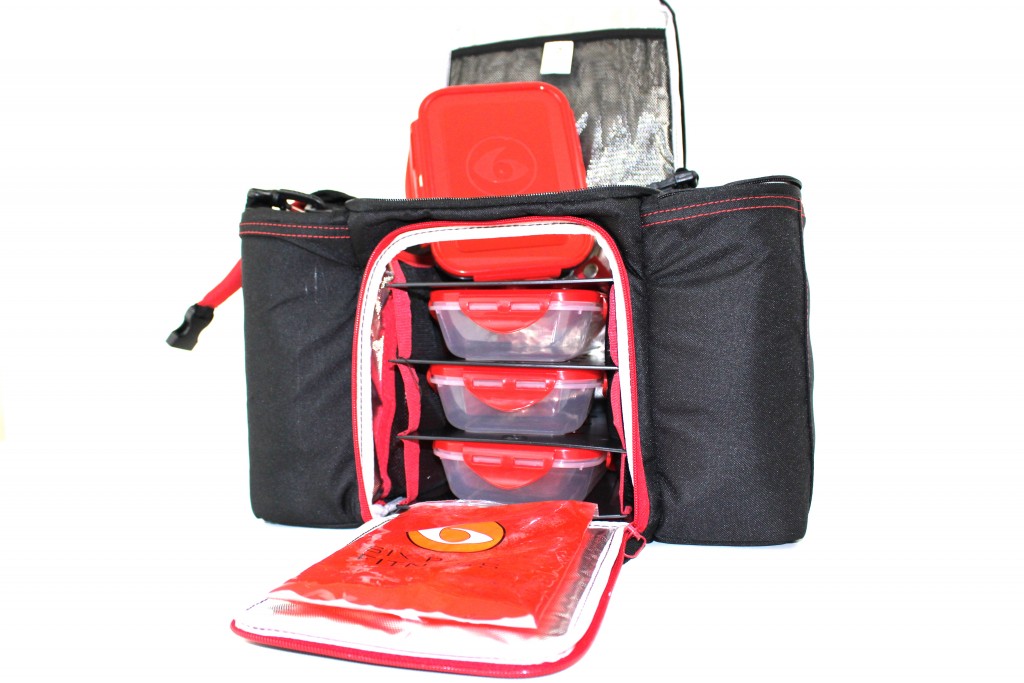 BEST
The Six Pack Fitness bag is the best that we tested, and a clear overall-quality winner for around $80.
The Innovator 300 is well made and is reasonably priced for all the features that you get, and for just a little more money than the ISOBAG 3. The material is 600D Polyester and is lighter than the Husky or the Isolator Fitness bag, but appears to hold up as good if not better. The zippers are a bit on the weak side for our taste, but they appear to hold up very well over time. The lining is also a more flexible material, but our tests were all a thumbs up on keeping things cold for long periods of time. The gel packs were a little anticlimactic for the Innovator 300, but they do work just as well as any others. It has a completely modular design so you can configure the interior a few different ways by removing bits and pieces as needed. It's heavily branded and a bit too big for the average person to just carry around, but for the serious professional it's a near-perfect size.
Four compartments, well, sort of …
The Six Pack Fitness Innovator 300 has four compartments but can be changed with its innovative modular feature. The main compartment is the meal storage and has a suspended tray system that holds and separates your meals, great for removing and replacing meals throughout the day. Above the main compartment you have the supplement tray that while connected and cooled to a degree by the ice packs below, isn't cooled independently to hold food unless you add an additional gel pack. The design is for supplements and includes a nine-compartment tray that is designed to separate and store supplements like a traditional pill box. This compartment can also be used as a meal bar replacement compartment, or for silverware storage or like items. This whole tray system can be removed to have a fully open compartment from the top to the bottom. Just disconnect the tray system via the snap connector and remove it, and it goes back in just as easily.
The two full-size side pouches are both insulated and zipper sealed. They are large and will hold almost any water bottle, pre-workout mixes, or even shakers with no problem. The pouches also have a hook-and-loop system that can be removed. One side has a single divider to separate the bottles and the other has two dividers so that you have a small storage area between bottles. To change that design just pull out the dividers as needed.
Overall this bag wins big points for its modular design and storage capacity. It is, however, the largest of all the bags we tested. We found it can be a little less portable than the other options but is by far the bag with the most storage area. Branding is heavy on this and you will not be able to hide who makes it, if you wanted to for some reason. It is durable and has a modular design to be able to hold anything you can throw at it. We thought the zippers were a little weak and wanted to see some YKKs to match the overall heavy-duty feel of the bag. The price is fair for what you get, and the fact is you will probably only need to buy one of these.
So if you are on a budget then the Husky bag is a great option for you at under $20 (plus ice packs). For those of you that are a little more serious and need to stuff your bag in a locker while you work or work out then you will want to look at the ISOBAG as your best choice. If you want to take the kitchen sink with you and want a bag that will last then you will be very happy with the Six Pack Fitness Innovator 300. No matter what choice you make we do recommend the ISOBAG food containers that can be purchased in bulk.