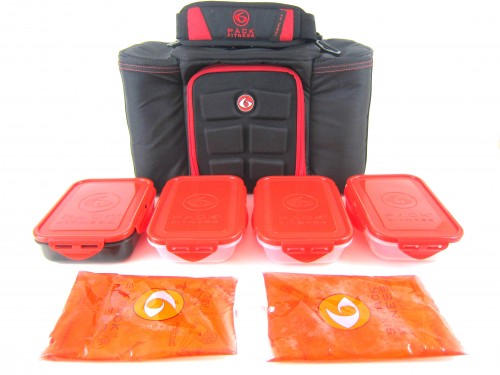 Six Pack Fitness Meal Management Innovator 300
No industry is more oversold than the fitness and health industry. Just get up in the middle of the night and turn on the TV and you will find a never-ending stream of items that promise that with little or no effort you will have the body of your dreams. The truth is that if you want anything in life worth having it requires a bit of work and planning. However, one thing that even the most skeptical of people will not deny is that sometimes we need tools that are available to help achieve that goal, do that work, or save on that effort. Meal preparation bags are highly effective tools to help you not just in your fitness goals but also with your clean eating or even food cost-cutting goals.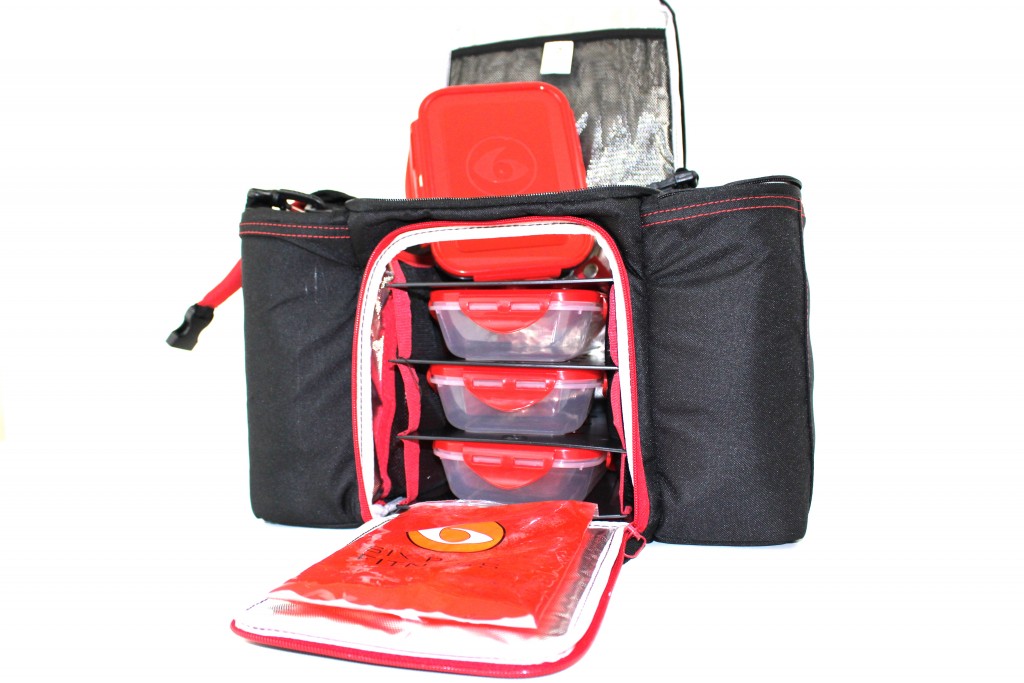 We looked at several meal preparation bags and our clear winner for overall quality was the Six Pack Fitness Innovator 300. The truth is that eating several small meals in a day is a proven method to keep the body's metabolism up and not slow the energy levels down by giving it too much food to digest. No matter what the late-night propaganda tries to sell you, this is a tried and true method to reaching almost any fitness goal from weight loss to body building. That is the idea behind meal prep bags; you are eating several small meals in a day and need to carry them with you.
So, how do you carry all that high-quality and low-cost food around all day?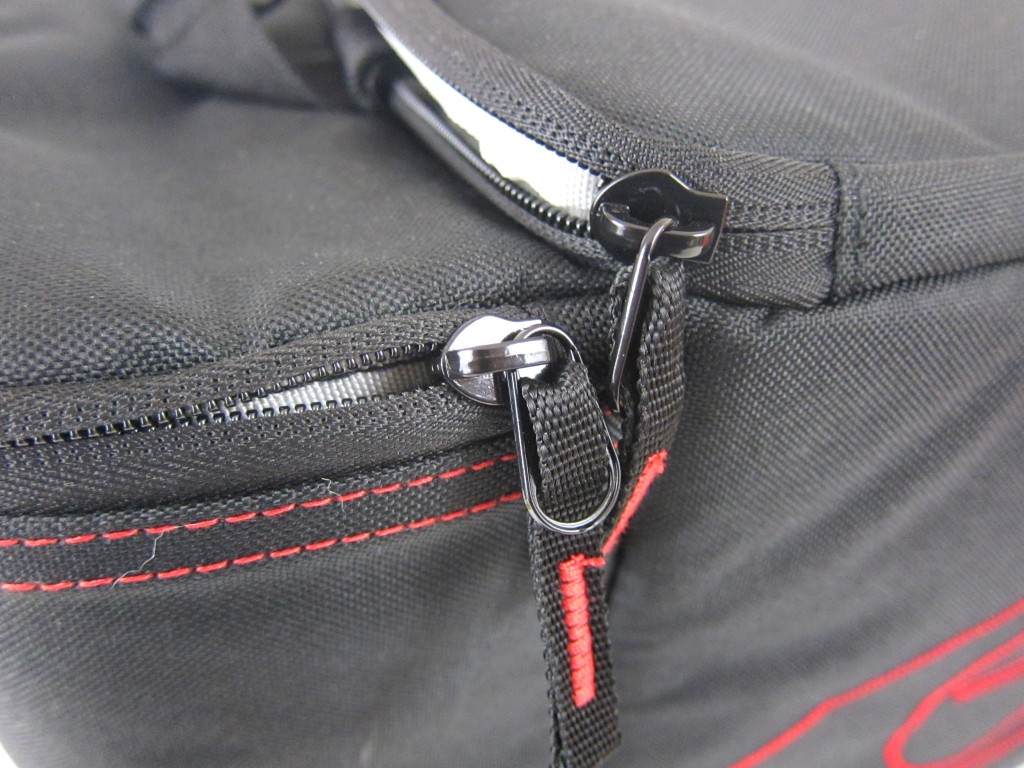 Design
The design of this bag has been clearly refined, thought out, and constructed with quality materials, tons of room, modular features, and a place for everything and everything in its place. The material itself feels very durable (600D polyester) and it has been reinforced in all the right places for extended durability. Earlier versions of this bag were reported to have some minor wear issues over time, and it appears that Six Pack Fitness has taken the time to really work out those bugs and make a bag that will last even under the most demanding of uses.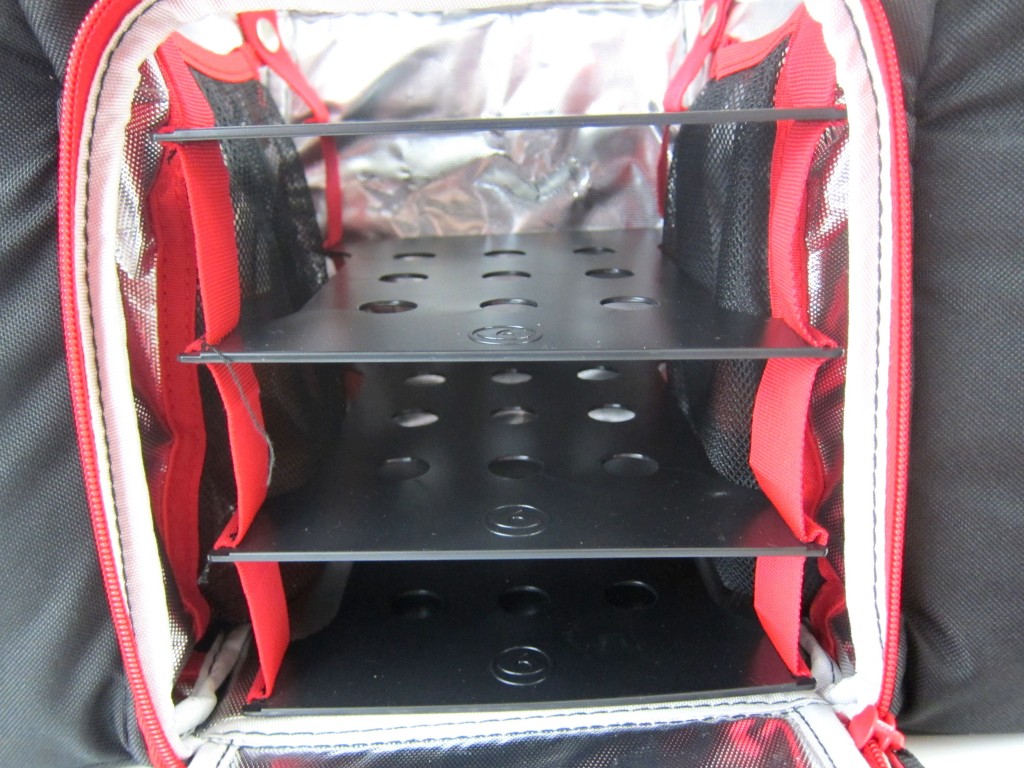 Exterior
As we have already mentioned, the exterior is made with 600D polyester material and feels very durable. Unfortunately, it would appear that Six Pack Fitness has managed to squeeze in a company logo on nearly every available surface on the material like the front, back, top, strap, trays, and the food containers. That can be a bit overwhelming at first but also shows pride of ownership, in my opinion. The zippers are just decent quality and they may not be the very popular YKK brand, but they appear to be well made and neatly integrated into the bag. The Innovator 300 comes with a heavy duty carry handle and a carrying strap that is padded (and branded) to match the bag's design and color choice (red/black for this one). The interior is covered in a "Cool Tech" lining and represents the best features of this bag. It really works well for keeping your food cold for a very long time. Eight hours is not a problem at all for this bag.
The Six Pack Fitness Innovator 300 has four separate compartments that are all-purpose. Briefly, they are: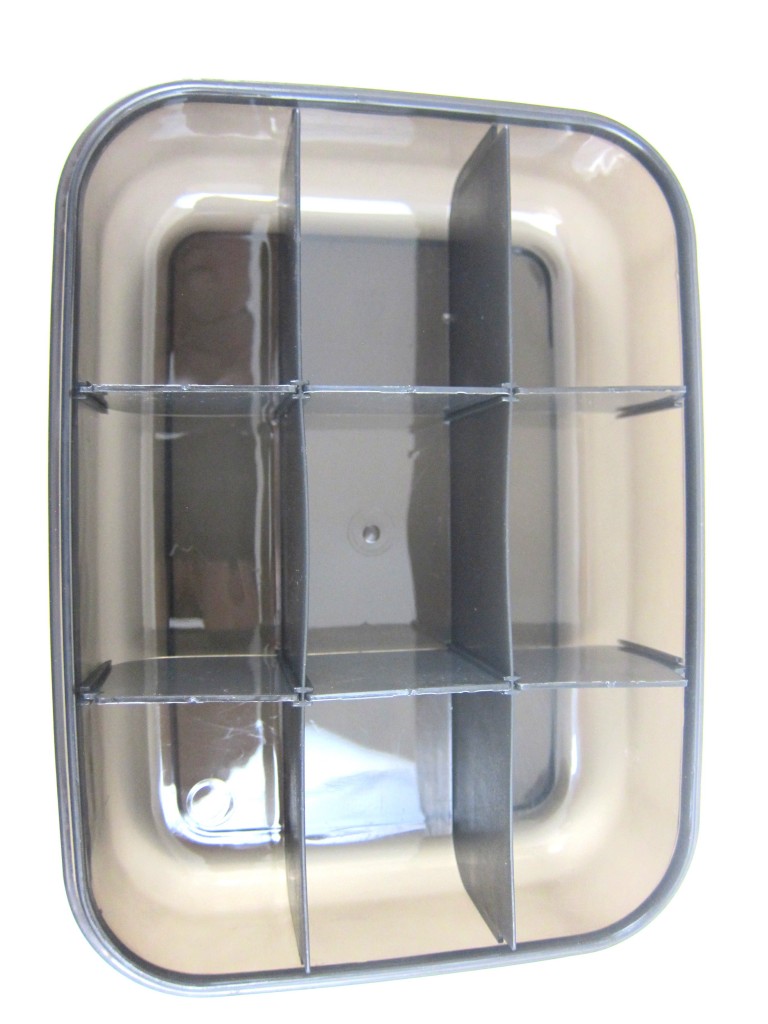 Supplement Container
On the very top of the bag you have the supplement compartment that includes (a branded) Six Pack Fitness supplement container. This is a modular compartment and is only partially exposed to the main front meal section, so it may stay a bit cooler but isn't really exposed to the side ice packs and will not be cold like the main meal area. You can add an additional ice pack to this section for storing an additional food container, but as it is this area is perfect for housing the supplement tray or even meal replacement bars. The carry handle does cover the top of this area but can be easily removed via an easy-release buckle to get it out of the way. Included with your bag is a single nine-compartment supplement container that is sectioned off evenly (like a basic pill box). This top pouch also has a mesh attached to the lid that is popular for storing silverware, an ice pack, or other additional items.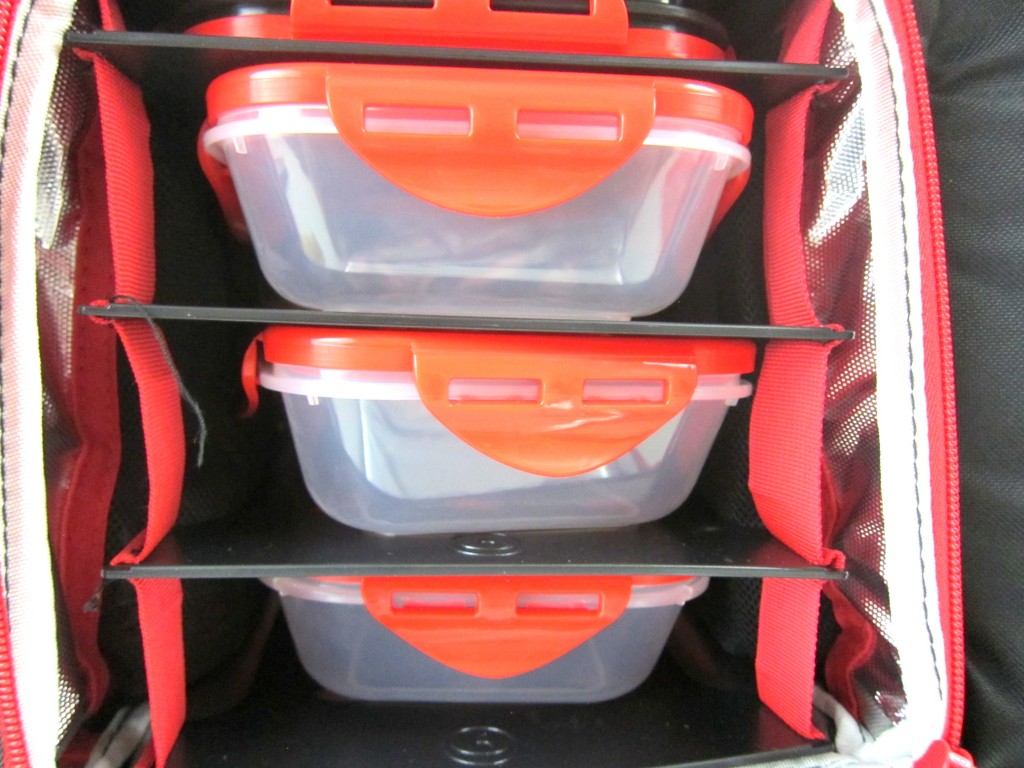 Main Meal Area
The main meal area has a full and separate zipper system to allow super easy access to all three main meal trays, flanked by ice packs. A suspended and removable tray system keeps each meal in its own section and maximizes the exposure to the cold of the ice pack to the left and the right. The trays are large and can fit some substantial containers in each (and comes with three 24 oz containers) of the three available open spaces. This whole section can also be completely removed to open the whole area for expanded use.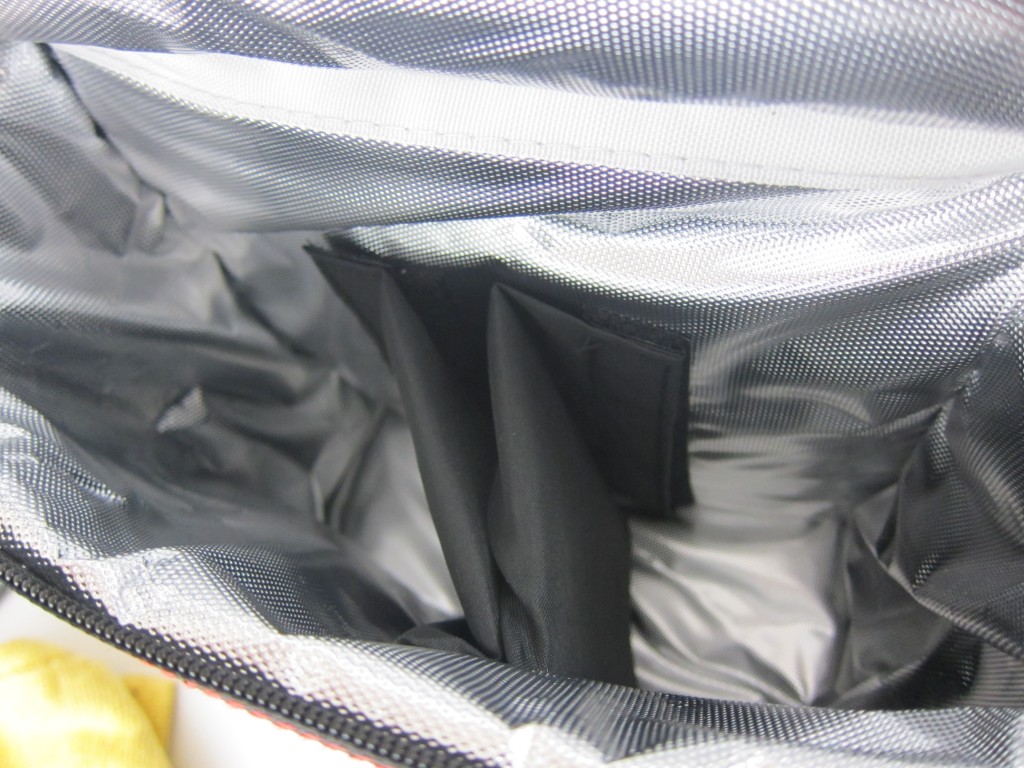 Side Pouches
This has two zipper side pouches for shaker cups or water bottles or for whatever you would want to put in them for the day's adventure. The factory-configured design has four total bottle-style areas (two on each side ). Each side has a divider to separate the bottles and one side has two dividers so you can store an object or objects between the two bottle areas. These dividers all have Velcro on them so they can be removed to open the area completely if desired.
This bag is a very well-built and surprisingly functional bag that even manages to squeeze out a bit of style at the same time. The Innovator 300 is available in several colors to match your unique style and taste. This bag is built to take some abuse and shows little wear over time. Its modular design is innovative and functional to fit your particular needs. These bags serve a purpose and they do a great job by making meal management as simple and as portable as possible. You will not be able to hide the fact that you have a Six Pack Fitness bag, but in the end you may not want to hide it at all.
PROS:
Durable material
Functional modular design
Keeps food cold
CONS:
Price in comparison is high
Size is a little larger than the other comparable bags
Branded heavily
BOTTOM LINE




If you are serious about fitness and need a "meal management" bag, or you are just serious about what you put into your body, this bag will make that task not only easier to organize but easier to take with you on the go. If you just want a lunch box then you can find cheaper options on the market.