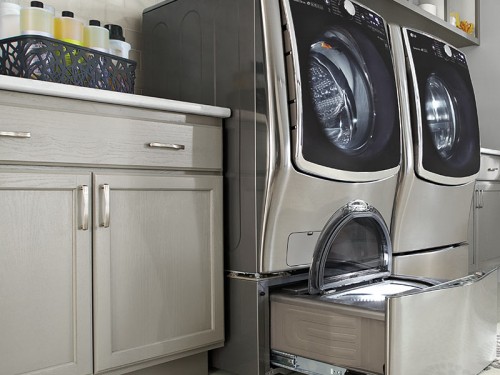 LG TWIN Side Kick Washer
Full Review by: Dave Judy
LG recently announced that it has added an exciting new product to its product line called the TWIN Wash system. The LG TWIN Wash system consists of the main LG washing unit and, more specifically, the LG SideKick pedestal-based washer as the star of this washing duet. This secondary unit is a much smaller 1.0 cu.ft. washer that is intended to be mounted under a main, full-size LG TWIN Wash washing machine (although any post-2009 unit should work). What this innovative system will allow you to do is basically have two washers in one unit. Keep in mind, however, that the second unit is very small.
I have always hated the low-value proposition of the pedestals that are so popular on front-load units. You have this large, complicated unit that is full of electronics, gears, motors, and all wrapped in a beautiful painted package, all for $600 to $900 on average for each unit. Then the pedestal comes along, which is nothing more than a metal box, at a whopping $250. It just doesn't create the value in a purchase I am looking for when I shop for products. Now, don't get me wrong, the SideKick is an amazing innovation for sure, but the unit is priced a bit high at around $700. That's a bit pricey for what is basically a 1.0 cu.ft. high-efficiency washer that costs the same as what a second full-size unit would cost.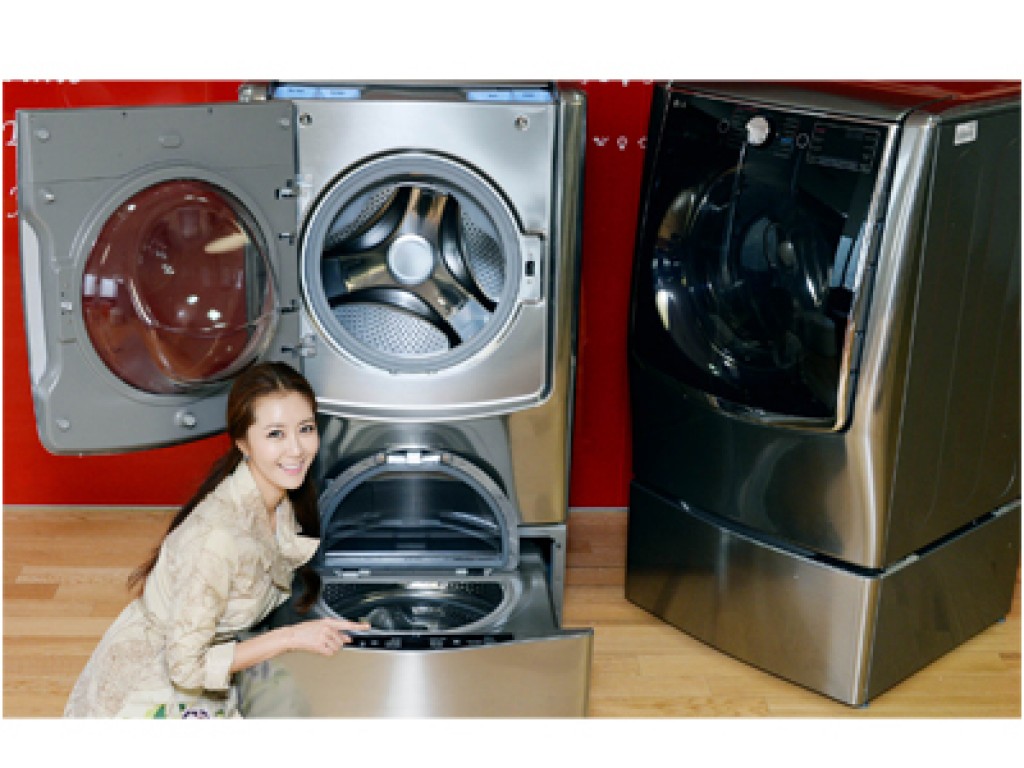 Does It Work?
Well, yes, the unit works and it is more or less just a small version of the full-size LG washer units with a direct drive motor and similar wash cycles, particularly the LG's WaveForce, rubbing or swinging cycles. The SideKick washer has a respectable six washing cycles that are able to use both warm and cold water options. These also appear to wash in a similar time as the normal-size washer and will wash its mini load in an average of 39 minutes up to 116 minutes.
Full Cycles List:
Normal
Intimates
Hand Wash
Active Wear
Rinse and Spin
Tub Clean
Tub Clean
This unit even has a tub cleaning cycle that LG says will take a total of about 58 minutes to clean out your TWIN Wash tub. This is a great added feature that will help control the typical smells that are a part of a washing if the unit is not cleaned regularly. LG recommends that you run a clean cycle after 30 washes and even has a "TLC" digital reminder that will appear on the digital display to remind you to clean the tub should you forget.
One of the best features of the SideKick/TWIN Wash system is that it is completely independent of its main washing unit. Even though the units are connected the SideKick has its own drain, water supply, and power supply. The unique independence of this unit will allow you to wash what you want, when you want, and how you want regardless of the main unit's washing agenda. No need to hold off on that small load of delicate whites in the corner because the main unit is washing the work clothes.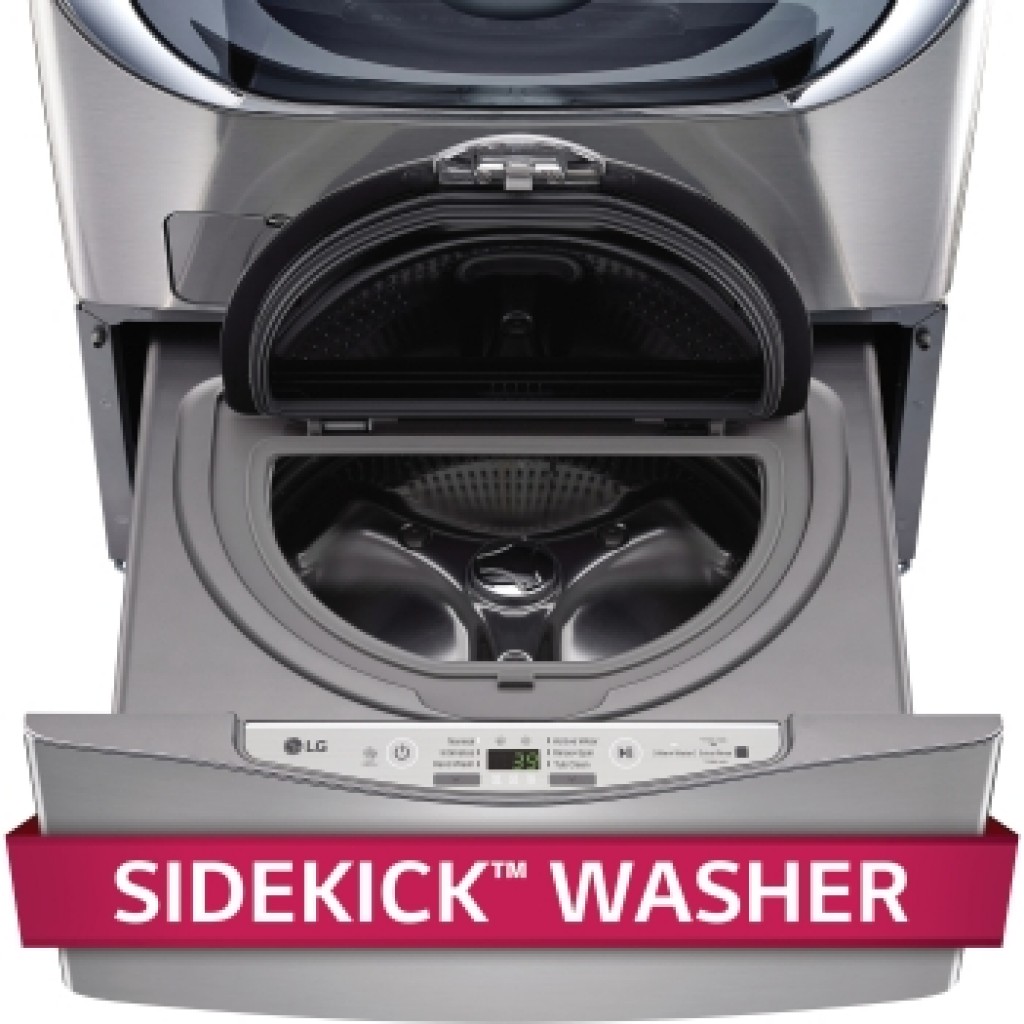 The controls are easy enough to operate. The drawer will pull out like any standard pedestal where you will just fill it (don't overfill), add detergent, select the load cycle, hit start, shove the drawer back in, and the unit will begin washing. You don't even need to worry about when it's done because it will play the LG tune that lets you know that it has completed the washing cycles. The unit will play a similar tune when it's time to add fabric softener, but you will need to pause the unit and add the softener liquid manually to the load before the actual rinse cycle. Similarly, like most units you can pause the cycles for whatever reason at any time by pushing the "pause" button.
Gladly, this unit requires little in the way of extras for installation. The unit itself runs off of regular 120v/60 hz household plugs. The drain line and the water supply lines are no different than standard units and are included in the unit for installation. The unit attaches and connects the same as any regular LG pedestal would mount, but the washer (the heavier of the washer/dryer units) will need to be lifted on top of the SideKick unit so you will need help.
PROS:
Highly efficient unit
Independent design
Mounts under all post-2009 units
Robust washing options
CONS:
Small tub size … really small
Price. The price of a new unit is $700.
BOTTOM LINE

If you have the money and often wash small loads it's kind of worth getting it because it works and it is in a space you wouldn't normally use. If you wash lots of laundry (lots), then buy a second full-size unit because this thing is so small and it even warns to not overfill.
Small addition but may be a big win.