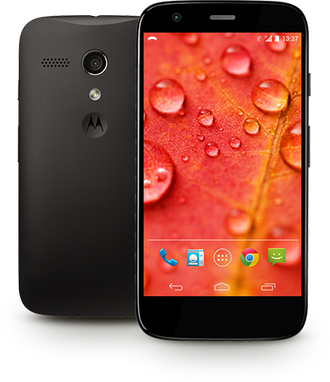 Motorola Moto G (1st Gen.) Mobile Phone Full Review
by: David Judy
Costs under $150 off contract
The Motorola Moto G may appear at first glance to be a simple mobile phone because it comes in an unassuming, simple package and with minimal accessories. With the Motorola Moto G you will not see an endless stream of media hype surrounding this phone, an endless stream of red carpet superstars sporting this phone, or even an endless flow of hip commercials. The phone itself may not be a showstopper, but it does offer one of the best specs for a smart phone that is selling in the sub-$150 price point. The Motorola Moto G will do everything a smart phone should do and at a third of the price.
When you pick up the Motorola Moto G you will notice immediately that it has a nice weight (5.04 oz) to its flowing, curved design and a good size (5.11 x 2.59 x 0.46 in). By comparison, the Moto G is a little bit thicker than its big brother, the Motorola Moto X, and is larger that its little brother, the Moto E. Not to worry, because no matter what model you choose you will get a nice design and they all feel very comfortable in the hand. The exterior is smooth with a silicon rubber-feeling back plate. Though small as a feature, it also has a popular slight indentation in the back middle of the phone that is perfect for keeping control of the phone when it's in your hand. I have an impact-resistant case installed over mine and it covers over this feature but it is nice nonetheless.
Exterior
The Moto X has some exterior customization options via Moto Maker, and this is lacking on the Moto G models other than the detachable back plates that are available as aftermarket cases. The Moto G has a non-removable lithium-ion 2070 mAh battery that has performed exceptionally well considering the price of the phone. I rarely need to charge my phone more than once a day, and I use my phone a considerable amount throughout the day.
Display
The colors on the display are vivid and reasonably bright, and the screen is even easy to see when you are outdoors (providing you are not in full sun). The screen is very responsive to touch and works well when taking advantage of multi-touch features. This is partly due to the quad-core processor and the new Lollipop software running behind the respectable 4.5-inch PS LCD capacitive, 16M color touchscreen with an impressive (for the price) 720 x 1280 pixel resolution. Be aware that this is an LCD display so you will not have the active notifications feature, because that requires the OLED display found in the Moto X. As we mentioned, this is a great basic multi-touch screen with a Gorilla Glass cover for some added durability.
Software
The Moto G originally came with Android Lollipop 5.1 but has had several updates to its software. Updates tend to make me nervous because of glitches and reduced battery life, but the latest update has proven to be a great addition to this already highly functional phone. The user interface is snappier and easier to navigate. I have had no issues with any application nor have I had problems with the email accounts that I have running on this phone. It handles multitasking demands, gaming, and surfing the web without any issues.
Processor
The Moto G comes standard with a quad-core chip and 1 GB of RAM. This is nearly half the price of the Moto X (which has considerably better processor specs), so the lower processor and the lack of RAM isn't a serious issue for basic use and is to be expected with a phone that is under $150. The most noticeable difference in this model is that it lacks motion activation (like the camera twist), active notification, and active listening features. This is clearly not built to be a gaming device, but it will handle many of the graphics-intense games without an issue.
The camera has to be the biggest disappointment on the Moto G. A 5MP camera is great for taking the simplest of pictures but when compared to several of the other high-end phones the camera is seriously lacking. The control for the camera and the ability to zoom in and out are bad enough that they might as well be removed from the phone. Well, almost. The video is good but reminds me of an upgraded version of what you would expect to see when people film a UFO sighting (and never seem to have a camera worth having). Realistically it's far better than that but don't expect this to replace the quality shots available with other smartphone cameras.
Connectivity
Overall the phone is great and uses WiFi without an issue. I use a high-value service called Republic Wireless that relies heavily on WiFi service, and it has been reliable and connects easily to all the networks in my location, including my home network. The Moto G does, however, leave off a few things for connectivity that are common on most phones, like:
NFC chip: The Moto G (generation 1) surprisingly doesn't have a NFC chip installed, and for some people that may be a big deal but personally I don't take advantage of the technology so I can't say that I have had any issue not having the chip installed. It is, however, a surprise it is missing when you consider the growing popularity of the technology and its correspondingly low cost.
Fight WiFi Band: This phone also does not have a 5ghz WiFi band, but I have used it extensively and have not found it to be more that a mild annoyance because I have been able to connect and even stream HD videos without an issue.
LTE: This does not have LTE. This is probably the least important of additions and isn't surprising because this phone is trying to go after a specific market. A vast majority of that market is international and that omission will be a non-issue for those areas.
Overall
The Motorola Moto G is a super value and is a mobile work horse. This model has a lot to offer even in the face of some of the glaring omissions like a good higher-resolution camera and absent connectivity technologies. The LCD display is bright and a decent size to do its intended purpose for most users. The Motorola Moto G is for that shopper looking for a  higher value/lower cost smart phone. The processor and RAM are very capable and can handle whatever you toss at it (within reason). The real shining star is the exceptionally low price point at sub-$150. For this price you would expect to have a phone that is just a slight upgrade from a flip phone but instead you get a highly capable, sharp mobile smartphone.