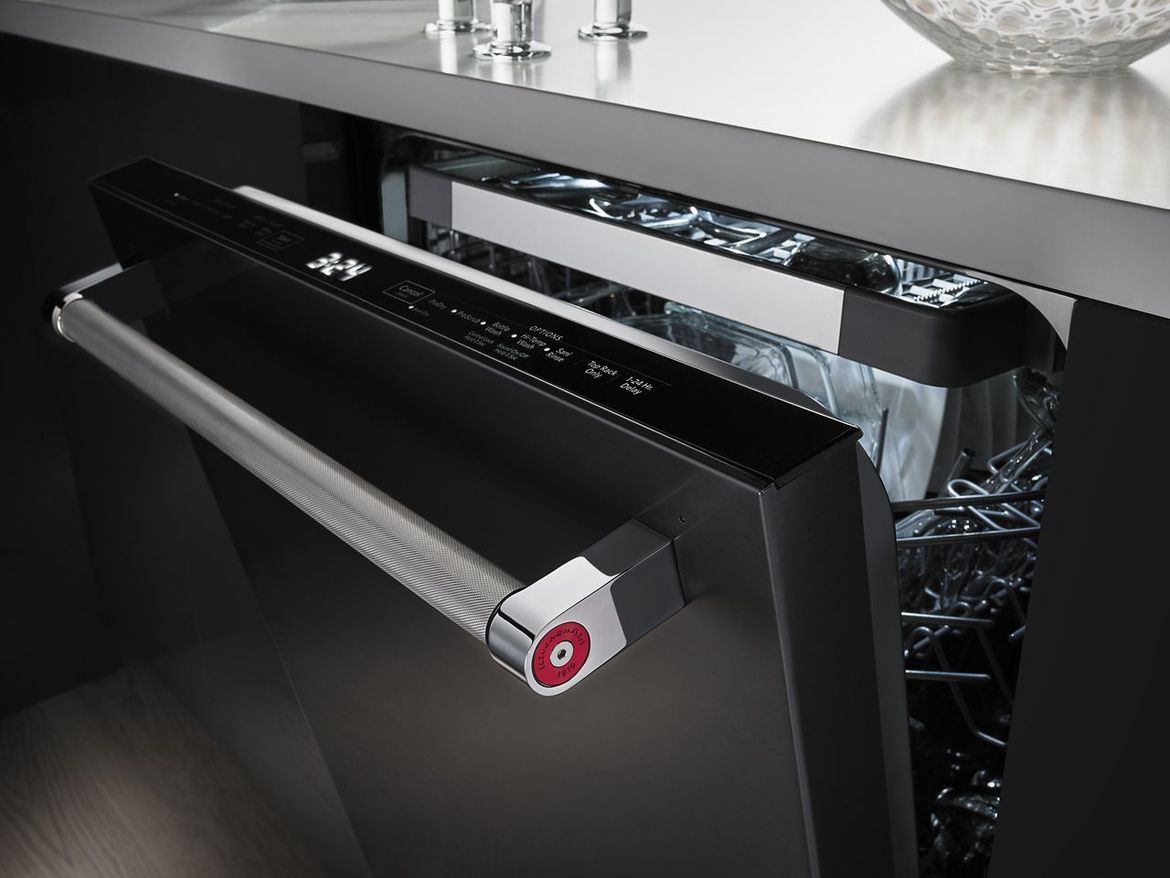 Black Stainless Steel Full Review

By: David Judy
Do you remember avocado green?
Like any industry, the appliance industry is always looking for a way to outdo its competition. Sometimes this is by adding features, functions, or with some cosmetic additions. On a rare occasion you will get an introduction of a new color, like the new "slate" color for GE. Sometimes these are wildcat colors that do not last (and GE's "slate" is in this category, in my opinion), but every now and then you will get a new innovation and it will be a hit. Black stainless is destined to be one of the newest and hottest colors for a variety of reasons.
Color
The color in general is absolutely amazing. It can appear to be almost chameleon-like because you can look at it from one angle and it appears to be perfectly black and then when you look at it from another angle it appears to have a traditional stainless steel finish. When you look at it just right you see a stunning and highly functional black stainless steel finish that doesn't show fingerprints. The look is hard to describe until you see it because it is such a perfect blend of the two popular finishes.
Maintenance
Stainless steel is both popular and frustrating because you need to give it a lot of TLC in order to keep the stainless shiny and fingerprint-free. It's true that several lower-maintenance options of stainless steel are available, but with that special coating you do have a change in the look of the stainless steel. It's a more dull version of the original and will not blend well with untreated versions. This is not the case with the black stainless because it's naturally a dark color and will easily hide little fingerprints and will clean up with a simple swipe of a damp cloth (at least on the Samsung unit we tested).
Cost
Yes, black stainless does cost more, and no, the actual black stainless units are not made better. When something is new and exciting you will have to pay a premium on that product, and the black stainless steel is no different in that regard. Keep in mind that you are not getting a better unit in itself, nor are you getting a new upgraded technology on the inside of that unit. Instead you are getting a unit that is already made under other model IDs and is just wearing a new black stainless steel finish. At the time of this post you are paying about 20 percent more in price to have the custom finish. It will not be long before you see the price start to come down due to all the competition for the market share.
Overall, the black stainless steel is hands-down the best finish we have seen in years. It has a sophisticated look and low-maintenance finish that will be the "one finish to rule them all." Unlike the wildcat finishes, it is offered by several different companies and in many models. Currently all the top manufacturers offer models in black stainless, including Whirlpool, Samsung, LG, and Kitchen Aid. If you are looking for a hot new look but do not want to be stuck with an avocado green kitchen then take some time and check out this new color, you will not regret it.
PROS:
Stylish new look
Low maintenance
Two colors in one: black and stainless
CONS:
Cost is still a little high
Low variety of models
Availability (many are special order)
BOTTOM LINE
If you want to pay the extra price for the black stainless finish then you will love it. It will look amazing, but make sure the actual unit you buy is a good model in its on right because the color will not make you feel better if it breaks down.