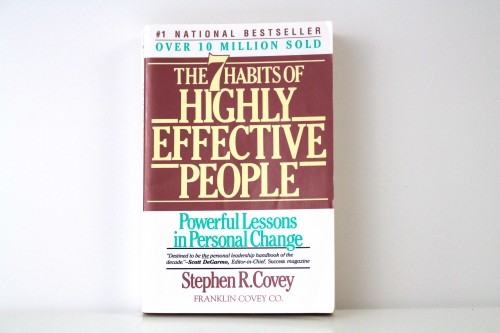 The 7 Habits of Highly Effective People: by Stephen R. Covey
So many self-help books and so little time!
I have personally read more self-help books than I can count. I have seen the full spectrum of options that this genre has to offer. If you ask anyone who has done the same then they will tell you that you can find a book that will tell you just about anything you can imagine, realistic or not! Somewhere, a book has been written to get you just about anything you could ever want. They have the books that will pump you up and books that will tear you down. They have the crazy books and even the odd books, and all do one main thing and that is tell the reader what they want to hear and make the author a lot of money. It's hard to find a book that is not full of fluff and just gives you real-world, applicable tools to help you set, work on, and achieve your goals.
I first read an article on Stephen R. Covey several years ago while in a local public library. He was a professor at the time and the article outlined his crazy idea that most (if not all) things could be achieved in life via the simple application of seven basic habits. Something just appeared to be so simple and true about not only the habits themselves but also of the author. I looked up his book, which was on cassette at the time (I know, it was a good while back), and started listening. Little did I know that it would become the first time of many that I would not only listen and read The 7 Habits of Highly Effective People but also many of the other books in the series. It was life-changing!
So many people in this area of expertise will get on stage and put on an epic show that makes you all pumped up but leaves you with no real solutions to make changes in your life a week later. Some of these same people in the off-hours just don't walk the talk, and Covey was unique in this respect. Though I am sure he was not perfect, you always could tell from his work that he believed, lived, and even championed The 7 Habits of Highly Effective People as one of the best ways to be effective in one's personal, professional, and even spiritual life. He didn't want you to get pumped up if only to come down and abandon a worthwhile goal a week later. It's for that reason that "habits" are the basis of his teaching and are even featured in the title. I hear that when he published his book for the first time he was told that the title was too long, but he wanted the title to reflect the content and that it was about habits and not just an emotional flash in the pan that fades away.
Don't get me wrong, you can get pumped up reading this, but it is because you can see the real value that these habits can play in your life and in the achievement of day-to-day effectiveness. It's the habits that are the key to achieving goals, and Mr. Covey walks you step by step to help you understand the habits and the flow needed to get you from one habit to the next habit. They flow in an inescapable natural and consecutive order. In most cases you begin to see how it's hard, if not impossible, to go from habit one to habit two unless you have made progress on the previous habit. This is the secret sauce in that it's an ecosystem of achievement in effectiveness.
As part of this review I will give an overview of the seven habits but please keep in mind that this book is a long-lasting and permanent option for change. Stephen R. Covey takes you through the book's contents by using deep and simple explanations, insights, experiences, illustrations, facts, and historical data to help give you a deep appreciation and understanding of the material's value. You simply must read the book to really understand the clarity and the effectiveness of adopting these habits.
Again, I want to give an overview of the habits, but don't let the simplicity of the words take away from the impact and the mastery in which Stephen R. Covey takes you through each habit.
Habit 1
Be Pro-Active. This is the habit of realizing that you are the one in control of your life. You decide who you are and what you do in your life.
Habit 2
Begin With the End in Mind. This is where you ask the questions, "So if I am in control then where do I want to take it? What goals are really worth my time?"
Habit 3
Put First Things First. So you are in control and you have a great goal in mind that is in line with all that is true to you. Now you have to put that first.
Habit 4
Think Win/Win. It's been said so many times that you almost dismiss it, but the concept is wonderful and Covey will walk you through the value and the concept of how we will never truly win unless we allow and discover ways for everyone to win, and that includes us and the person across the table.
Habit 5
Seek First to Understand and Then to Be Understood. Covey is so smooth in explaining to you how we are all pre-programmed to want to make our point known and understood before all else. The truth is that great conversations can happen if a person feels that you understand them; once a person feels understood they will listen to understand you.
Habit 6
Synergize. Like two people in a cold-weather survival situation, we can share heat to survive. In the same way, two or more people can do more together than any of those people could do on their own.
Habit 7
Sharpen the Saw. The best habit of all and the most overlooked habit is the habit of renewal. As Covey states, we are often so busy driving that we forget to stop and get gas. To operate at a high level of effectiveness you must renew yourself and find ways that allow you to continue to be able to operate at that level.
I do not believe that a more complete and non-fluffed book exists on the subject of truly being effective. The book isn't dramatic or hyped up, but it is almost unmatched in its sales, which is a reflection of its universal acceptance. The system of creating habits in this book is well tested, logical, and has a deep feeling of true effectiveness. Stephen R. Covey created a book that will surely stand the test of time. With this book you are given real solutions and real techniques to solve and create positive and effective habits to improve your life and progress toward goals.
PROS:
Tested and passed the time test
Well written from front to back
Broad scope of solutions
Realistic
Non-fluffed content
Not emotional but realistic
Wealth of additional content available
CONS:
I challenge you to find something!
Bottom Line
If you had one book to take on a trip to a deserted island, pick The 7 Habits of Highly Effective People. If you want a book that is deep and true, pick The 7 Habits of Highly Effective People. If you want a book that has stood the test of time, pick The 7 Habits of Highly Effective People. If you want a book that is all fluff and leaves you pumped but with no real direction, look for a Tony Robbins book.
The best slef help book on the market!