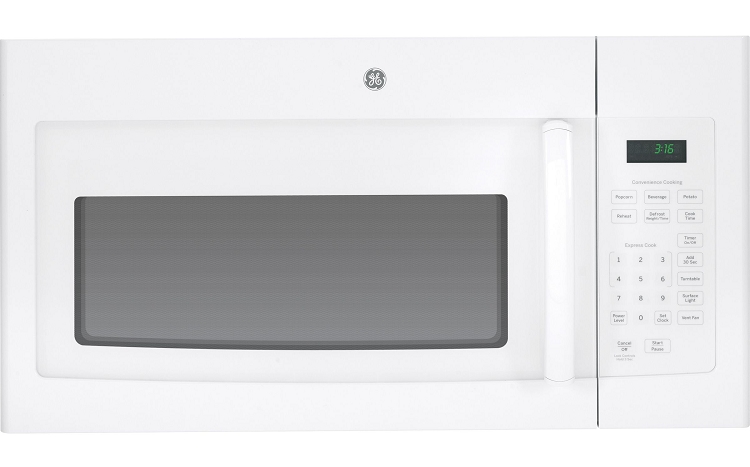 GE JVM3160
Full Review
PROS:
Price: This is value priced from under $200 to $250 at most retailers. You can even find this unit as low as $199.
Power: 1000 watts of power is average.
Control Panel: The control panel is simple and the buttons are a bit oversized for easy navigation.
Fan: This has a 300 C.F.M. fan for venting.
Size: This has 1.6 cubic feet of cooking space, which is a little on the small side but still capable for most needs.
Door: The door does feel a little on the light side but works well.
Filter: This unit does not include (even GE doesnt give you a good answer on this one.) a charcoal filter, so if you want one you will have to spend another $25 to $35 to get it.




// ]]>
Size and Power
This unit has 1.6 cubic feet of cooking space that houses a 13.5" glass turntable at the low side of the 30" OTR microwave spectrum. The JVM3160 has a respectable 1000 watts of power, which is also very common. You'll have two speed options on the fan that will move a maximum of 300 cubic feet per minute of air through the included steel mesh filter designed to capture grease from the food you are cooking. An optional charcoal filter is available (no, unfortunately the charcoal filter is not included) for filtering out odor.
Cosmetic/Design
Part of the appeal for this unit is that the price is reasonable at around $200 to $250 at most retailers. At the low end of the pricing spectrum you are not going to win any beauty contests. The unit is available in white, black and bisque, and for a small additional charge you can have the popular stainless steel option. The new trend on all microwaves is that the venting is no longer visible on the front of the unit, and this one is no different. The left-hand swing door can appear to be a bit flimsy and is not revolutionary but is functional none the less.
Features/Functions
The control panel for the JVM3160 is basic with 10 power levels and six preset buttons, with the ever-popular add 30 seconds button we all know and love. The fan can be activated manually, or in the event that the stove heat reaches a certain level the fan will automatically turn on to dissipate the heat. The lights are incandescent, which is disappointing with the options currently available.
Durability
Durability in the cheaper O.T.R. units is not necessarily an issue on some microwaves; all modern appliances are a victim of mass production and can have issues but our findings agree that for the most part the JVM3160 appears to hold up well. A few people report issues with the door quality, fan issues, and many consumers are upset about the mis information regarding the inclusion of the charcoal filter. Many people had complaints that the fan spontaneously turned on, but this is a result of the automatic heat feature built into this unit.
Value
Overall this is a great value at a price under $250 or less. It has a standard compliment of features, a reasonable size and power for the price. The exterior is reasonably attractive and has the typical features with a monochromatic color scheme. Most manufacturers have a unit to fill this price slot but GE stand above in customer product reviews—it sports an average 4-plus star rating across the board. If you want to have a functional unit with a low price this may be the unit for you.
GE JVM3160 Full Review
Bottom Line: If you are looking for a microwave that looks nice, works well and will not break the bank then you will like this unit. This is great for rental properties and vacation homes, and will not look out of place in basic kitchens.